Meet a FUNda Leader
FUNda Leader Profile:
Frans Makgalo
One of our most inspiring FUNda Leaders this month is Frans Makgalo. Frans is originally from Limpopo, raised in a village in Botlokwa called Ga-Ramatjowe. He is currently a teacher at Gadokuwayo Primary School, KwaZulu-Natal, and has dedicated his time to bring the joy of stories and books to children in his school and community.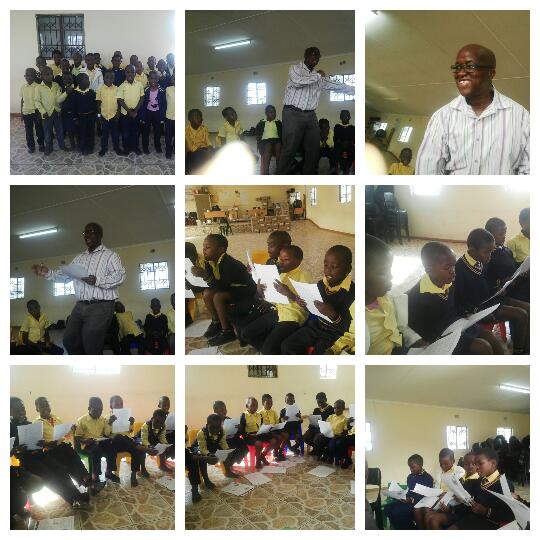 Frans studied a Senior Primary Teachers' Diploma at Sekgosese College in 1997, a certificate in Education Management at Damelin Correspondence College in 2010, and a Diploma in School Librarianship at the University of Zululand in 2013. Based on the lack of teaching posts at the time, he started working at Legae Private Hospital as cleaner in 1998. In 2005, Frans finally realised his dream of becoming a teacher, and joined Gadokuwayo Primary School in 2006, teaching Grades four to seven. Due to his hard work and sheer passion for literacy, he was promoted Head of Department for the foundation phase learners.
Frans' passion for books started at a very early age. "The person who instilled the love of reading is my mother, who made sure that before going to sleep we read English or Sepedi books to her. My favourite moments as a child was when we used to visit my grandmother, who was a great storyteller and made sure we also took part in retelling those stories!"
Reading and books are powerful, because they develop the mind and imagination, and help children understand the world around them. Frans says that "if it was not for reading I would not be where I am right now - being able to impart knowledge to the young ones."
This is how Nal'ibali noticed the amazing work that Frans is doing in his community – as both a teacher and literacy activist. He signed up to become a FUNda Leader, and has since been in touch with and motivated by Nal'ibali. Frans told us "the inspiration that made me sign up as a FUNda Leader was because I knew that in order for learners to read, they have to enjoy it! I love the FUNda Leader activities in the Kick-Off kit. The interaction is what matters. I love storytelling, reading aloud and discussing stories with the children."
Frans runs and sustains reading clubs and literacy activities to keep the children engaged, excited and happy. An inspiration to all teachers, Frans has a message for all aspiring FUNda Leaders this World Teacher's Day: "My fellow educators, just give yourself time to be with the learners or young ones. Don't let time be an obstacle when learners want to continue reading for enjoyment!"